Facebook Business Manager houses a powerful set of tools, but it can be intimidating for new users. Follow these simple steps to start your business.
It's hard to think of social media strategy today without thinking of Facebook.
Facebook marketing is big business and it looks set to grow even further considering that Facebook owns both WhatsApp and Instagram.
As digital marketing becomes more complex, businesses need tools that make their lives a little easier. Facebook Business Manager seems a little intimidating at first, but it will have a positive impact on your advertising once you're up and running.
Below, we'll break the process down into simple steps. But first, let's look at what Facebook Business Manager is and the benefits it can bring.
Overview: What is Facebook Business Manager?
Facebook Business Manager hosts all of Facebook's advertising tools for businesses. From this platform, you can manage your content, data, and audience lists in Facebook and Instagram ad campaigns.
The screenshot below shows the main menu of Facebook Business Manager. As you can see, everything from Facebook Ads Manager to Facebook Analytics can be found here.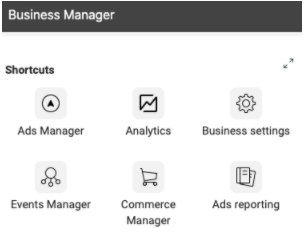 What are the benefits of using Facebook Business Manager?
The main benefit of using Facebook Business Manager is that it provides a central location for all your social media ads, content, and data. This is vital for businesses that have complex marketing strategies, as it helps them maintain consistency in their messages.
You can also assign different permission levels to people in your company and any outside partners from the Business Manager interface. This brings an additional and welcome level of security to your business.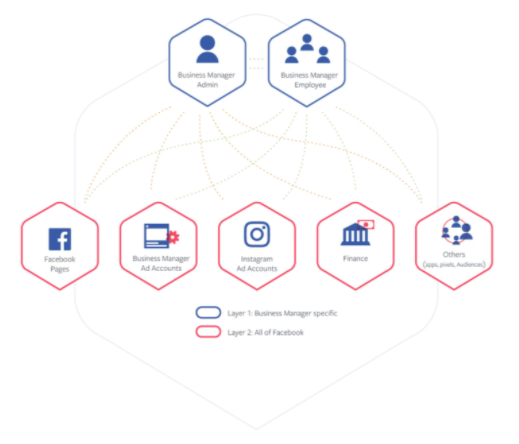 Many of the individual tools here are accessible externally. For example, the Facebook pixel is available elsewhere, and you can create Lookalike Audiences in other tools. Yet the main benefit of using Facebook Business Manager is that it's greater than the sum of its parts.
It brings all of these tools together in a secure dashboard that businesses can control. If you plan to advertise on Facebook or schedule Facebook posts for more than a one-time campaign, this is a reliable place to manage your business.
How to Use Facebook Business Manager in Your Small Business
The benefits may be obvious, but where to start?
1. Create your account
Head toward https://business.facebook.com/ and click Create Account.
This will take you to a screen like this, where you can add your details: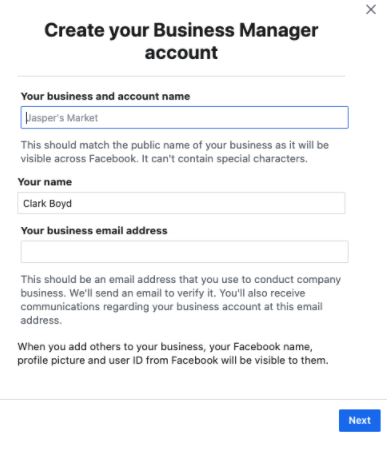 Once you have filled in all your details, Facebook will send you a confirmation email. Once your information is confirmed, your account will be ready to use!
2. Link your account to your Facebook business page
Next, you will need to link your account to your Facebook business page. Your Business Manager dashboard will give you the option to add an existing page or create a new one.

If you have already set up a page, you can simply search for it after clicking Add Page to see it here. The Page admin will be approved immediately, but other users will need to submit a permission request to access the Page.
You can repeat the process as many times as necessary to add all of your pages to this account.
3. Add your ad accounts
This process is very similar to the previous step of adding a business page to your account. If you already have a Facebook Ads account, you can instantly link it to Business Manager.
To get started, select Business Settings from the main navigation at the top left of your screen.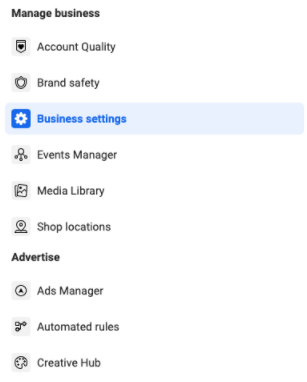 Once you're in the main dashboard, select Ad Accounts under the Accounts button on the left. This will bring up the option to add an account or request access to a customer's account.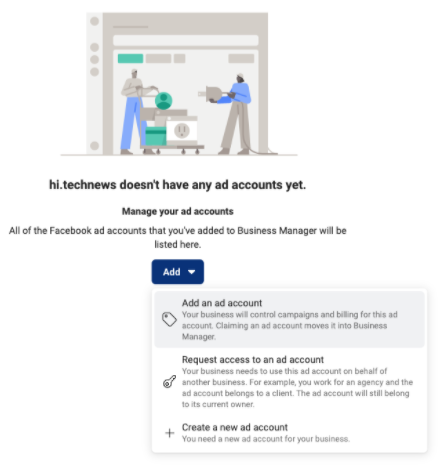 Facebook will ask for your Ad Account ID, which you can find in the Facebook Ads Manager. If you need to create a new account, you can also do so from this screen.
If you need to provide access to more users, you can also do it in the corporate settings interface. Select the Users button and send email invitations, then decide which resources you want this user to access. For example, you might want certain users to have access to specific pages or Facebook brand assets.
4. Add an Instagram account
You can also manage your Instagram accounts from Facebook Business Manager. From the Business Settings dashboard, select Instagram Accounts, then Add. It really is that simple!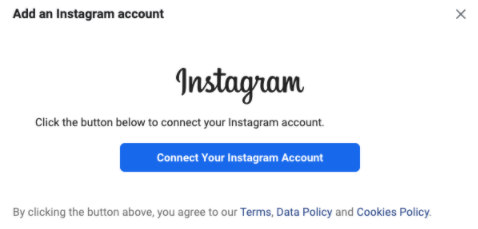 5. Implement security features
You will spend quite a bit of time in the Enterprise Settings dashboard during this setup process. Under the Security Center option in the left navigation, you can specify that two-factor authentication is required for all users, if desired.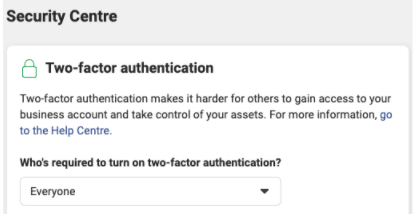 It's a good idea to set this up from the start, before you start adding audience lists and payment details to your account.
You can now start using the fantastic social media advertising features of Facebook Business Manager!
A One-Stop-Shop for Facebook Marketing
Facebook Business Manager is one of the ultimate social media management tools. You can customize it according to your needs and it offers endless possibilities to improve your advertising performance.
Follow the steps above and you'll be ready to take advantage of this powerful toolkit.