Frederick's Candidates Make Last Push Before Election Day | Politics and government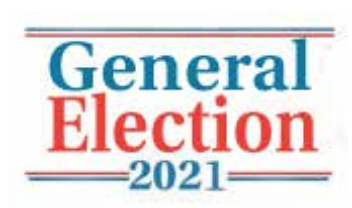 With Frederick's election day finally arriving, the city's candidates for alderman spent the day before making a final presentation to voters.
Republican candidates Michelle Shay and Robert A. Fischer spent part of Monday knocking on doors in eastern neighborhoods.
Shay wore a large white pin with a Republican elephant on her shirt as she carried a clipboard with a mailing list of Republican and unaffiliated voters.
"I usually knock once or twice and then I leave my flyer," she said.
Meanwhile, Democratic challenger Katie Nash spent Monday making phone calls and responding to last-minute emails asking her position on various issues in her attempt to join fellow Democrats Donna Kuzemchak, Ben MacShane, Kelly Russell and Derek Shackelford on the Board of Directors.
The four incumbents are seeking re-election, while alderman Roger Wilson ran unsuccessfully for the Democratic nomination for mayor.
Nash said she was a big supporter of calling voters and contacting them electronically. She said she was unable to go door-to-door as much as she would like with the lingering effects of the COVID pandemic.
"I felt like we needed to be creative this year and reach out to people in other ways," Nash said.
Shay said she recently found a Democrat who said he's had enough of the Democratic mayor and aldermen and will vote for her and Fischer.
It's rare, she said, but she heard it enough to be surprising.
Problems with the National Democratic Party, such as government spending levels, have spilled over to the local level, she said.
Nash said COVID and federal issues were prominent in emails she received, but she also recently received a message about improving neighborhood parking enforcement.
"That's the beauty of local government," she said.
As these candidates focused on the race for the five alderman seats, the city also faces a four-way race for mayor.
Democratic incumbent Michael O'Connor faces Republican candidate Steven Hammrick, while former Democratic Mayor Jennifer Dougherty and former Alderman and County Commissioner Blaine Young are mounting campaigns in writing.
Shay said the mayoral race – in which Hammrick raised no money, according to financial reports, and did little active campaigning while facing an indictment in circuit court in the Frederick County for assault and weapons – was raised when speaking to voters. She believes Hammrick's campaign may have hurt her and Fischer's offers.
Hammrick maintained that the indictment was politically motivated by his running for mayor.
But Shay mentioned Young's written campaign as a possible alternative to getting Republican voters out.
And she and Fischer believe the mayoral race may make some Democratic voters overconfident in the results and less likely to vote.
But that won't happen, Nash said.
"Considering the odd year that this has been, I don't think Democrats can assume anything is done," she said.
The city polling center on the former Trinity School site at 6040 New Design Road will be open Tuesday from 7 a.m. to 8 p.m. Transportation to the site is available through the Frederick County Transit Service.
Voters can also vote at seven drop-off locations around town before 8 p.m.
Locations include the polling center at 6040 New Design Road, Frederick County Electoral Council office, Talley Recreation Center, Hillcrest Commons, Housing Authority office, Frederick Community College, and Gov. Thomas Johnson High School.
Mail-in ballots must be postmarked no later than Tuesday and received no later than 4:30 p.m. on Friday.
Fischer said he and Shay encouraged people not to vote by mail at this point, unless they bring their ballot directly to the post office, given the problems with the postal service over the course. of the past year, "They'll never get there on time." "
Follow Ryan Marshall on Twitter: @RMarshallFNP