Kevin Matkin thought he had seen it all. He joined Maysteel Industries as executive vice president of operations in 2010, became CEO three years later, and led the Allenton, Wis.-based operation through a period of significant growth. In 2017, the manufacturer purchased DAMAC, a manufacturer of data center infrastructure products that expanded Maysteel's footprint on the West Coast. Then, in December 2019, Maysteel, owned by Littlejohn Capital, merged with Porter's Group, a portfolio company of Resilience Capital Partners, expanding the manufacturer's footprint in the Southeast. A few months later, the world has changed.
"We've all been through the Great Recession years, and after that I thought I would never come across something that I hadn't seen before," Matkin said. "Then 2020 arrived. But you learn to adapt and understand what you need to do.
The history of Maysteel reflects the experience of many manufacturers over the past few years. The pandemic has changed the world, but it hasn't necessarily changed the fundamentals of growing a metal fabrication business. On the contrary, it confirmed how well the custom manufacturing business model holds up against adversity. Maysteel's model in particular involves three types of diversity: in terms of geography, customers and careers, which has helped the company land at number 10 on our 2022 FAB 40 list.
Diversity in Geography
The timing of Porter's merger, just before the pandemic, may seem like a stroke of bad luck. Even so, the slowdown that followed allowed the manufacturer to breathe a little, especially when it comes to capacity management.
"We took advantage of the downturn to streamline the manufacturing footprint," Matkin said. "That is, we took a step back and thought about what products should be made and where. One of our value propositions is to be able to be where our customers need us to be. Some products were moved from Wisconsin to factories in Virginia and South Carolina.
The company also reconsidered how best to utilize its manufacturing capacity in the new, larger organization. "We asked, 'How can we leverage our multi-factory capability so that when we get very large orders, we can produce at multiple sites?' [Since the merger] we also launched new products in several places at the same time.
To make all of this happen requires multi-level collaboration between the manufacturer and the customer. "We call it 'zipping' with the client," Matkin said. "So our quality manager works with his quality manager, our engineer works with his engineer, and that happens throughout the organization."
To support this process, Maysteel recently launched a new project management feature. Matkin described this as more than just checking a list of items. Project managers guide new programs through the new product introduction process, but they do so at a strategic level. They not only focus on the project, but also how this project will affect other programs and strategies throughout the organization. To retain their organization-wide perspective, Project Managers are not part of specific divisions, but rather work within their own department and report directly to the COO of Maysteel.
Besides new products, these project managers "can work on any other strategic project," Matkin said. "This could involve moving products from one plant to another or opening or adding a new facility."
Diversity of customers
"We've doubled our data center business twice in the past two years," Matkin said.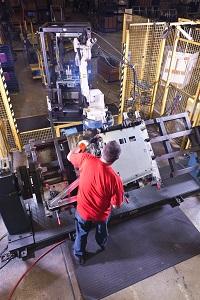 Considering DAMAC branded shelving and other data center products, such growth is not surprising. Even when Maysteel acquired the brand in 2017, officials knew data centers would be a major growth market. Yet the way Maysteel has increased its order volume in this market shows just how different custom metal fabrication is from other areas of contract manufacturing.
First, the manufacturer strives to manage the diversity of its global customer base, which in turn drives the diversity of its capabilities, from laser cutting and punching to stamping. The merger with Porter's, which serves customers in the physical security and transportation markets, was part of that effort. Ideally, no sector should represent more than 20% of Maysteel's overall turnover.
"Recently, the data center market has grown a bit beyond that," Matkin said, "but our diversification drive continues to ensure that we minimize our reliance on any one particular market. ."
Second, Maysteel has expanded its data center business in a geographically distributed fashion. He could have chosen to invest solely in DAMAC's California operation, perhaps devoting more value streams and more automation to the manufacturer's hottest market segment. The manufacturer dedicates certain value chains to certain product lines, especially the more standardized ones, but it still does not limit production to one factory or region. Instead, it distributes the work across multiple locations, including factories in Mexico and manufacturing partners in Europe.
Three factors motivate this strategy. First, producing DAMAC products in multiple plants brings manufacturing closer to customers and makes better use of Maysteel's manufacturing capacity across the organization. Second, growing capabilities across multiple factories support a more robust and reliable supply base. Third, most DAMAC products are custom or highly configurable, making them less suitable for automation, especially in assembly. So increasing volume by consolidating production under one roof would not allow for end-to-end automation anyway.
That's not to say Maysteel avoids automation. He has a lot of robotic welding, uses AMADA laser cutting automation, and studies tool change automation in forming. The manufacturer also recently completed an organization-wide implementation of an Epicor enterprise resource planning (ERP) system, which began after the acquisition of DAMAC in 2018 and has continued. with Porter's fusion.
As Matkin explained, this ERP implementation came with a healthy dose of change management, "getting everyone on board with what we're trying to do and standardize."
In implementing the new ERP platform, Maysteel moved away from push-to-floor orders and toward pull-like scheduling, in which completed orders trigger up-front orders. Ground control transmissions tend to focus on keeping machines running, but they can swell work-in-progress (WIP) buffers.
The larger these WIP buffers, the longer the overall lead time of an order (from raw stock to finished product) becomes. And having more material on the floor is never good for cash flow, especially in today's inflationary environment.
Matkin added that getting raw stock hasn't been a problem, but choke points elsewhere in the supply chain have created a less than ideal workflow. "Our inventory hasn't grown much, but we're definitely operating at a higher inventory level now. We need to protect our customers and make sure we can deliver.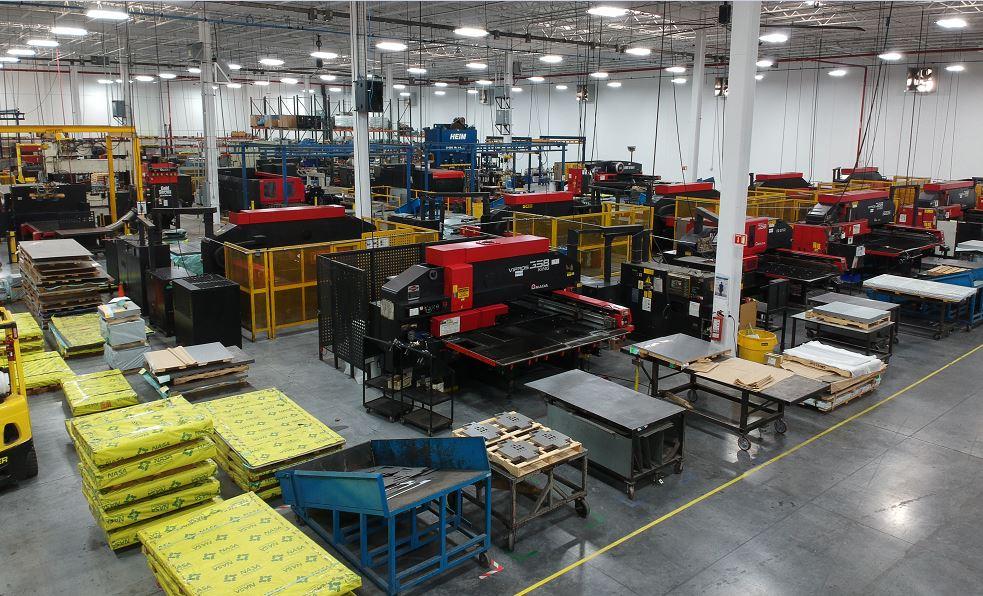 Diversity in careers
Such an environment demands cross-training, which in turn creates different career paths. That last point, Matkin said, has become increasingly important in the manufacturer's hiring and retention efforts. "We had to adapt to this hypercompetitive hiring environment. Why does someone want to work at Maysteel and not elsewhere? It's not always a question of salary. It's about the culture and the opportunities that the company offers. Some people focus on one area, like operating press brakes or welding, but more recent hires "have been more excited to see all the pieces of the puzzle" as the pieces move from cutting to forming and further downstream.
Some at Maysteel start in the shop floor and progress into manufacturing supervision and engineering. Some move up the ranks through sales positions. Still others take less traditional routes, such as starting out in accounting and moving into a sales role.
"When it comes to retention, it's the same story as when we hire," Matkin said. "Why do they want to stay? Can they be promoted from within? I learned a long time ago that you have to give people options. They need to know what they can do to advance in the organization.
Maysteel's growth continues, with strong sales increases expected in 2022, and perhaps less robust sales growth expected in 2023.
"We can't stay on this growth trajectory forever," Matkin said. "Nevertheless, we expect a pattern of sustained growth for the foreseeable future."
Like everyone else, the manufacturer continues to face a host of external challenges, ranging from supply chain difficulties to increasingly unpredictable geopolitical events. Through it all, the company continues to use this trio of diversity – geography, customers, and careers – to navigate through whatever comes next.